Ready Mix Concrete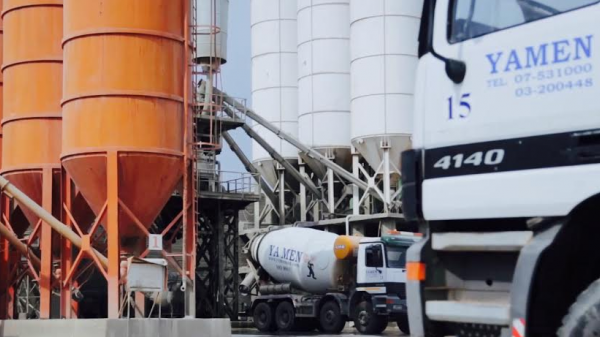 Yamen owns two fully computerized concrete batching plants:
Stetter Concrete Batching and Mixing Plant with a production rate of 1 m³/ batch and 60 m³/ hr.
IMER Concrete Batching and Mixing Plant with a production rate of 3 m³/ batch and 120 m³/ hr.
All batching operations and quantities adjustments are automated through our fully computerized systems.
Competing in Quality...
Yamen is one of the unique ready mix suppliers who have installed a Sand Washing Plant equipped with the latest technology in sand washing. It cleans, liquidates, filters, purifies, and dries the sand twice which provides superior sand quality thus utilizes the strength and durability of concrete. Being ahead of all other concrete suppliers, Yamen raised the standards into a new level, making it second to none.
Cement
Yamen uses exclusively cement type known as PA-Z 42.5 in the production of its concrete.
This cement adapts several Lebanese and international norms such as: NL, 53EU and IRI
Aggregates
Yamen selects its aggregates carefully and in compliance with the Lebanese and International requirements for concrete production.
All aggregates are cautiously tested in sequential manner to guarantee that our product owns the highest quality.
Water
Water used for concrete is produced from artesian wells; it is characterized by its good quality.
Admixtures
Admixtures used have strong dispersant action with finer elements of concrete. It improves concrete's workability, allows concrete to reach higher mechanical strength, maintains good mix appearance without segregation and weather concreting, and improves pump ability.
Special Concrete
Yamen produces special ready mix concrete including, but not limited to, High Strength Concrete, Self Consolidating Concrete (SCC), Rapid Strength Concrete, Screed, etc.
Transportation
Yamen's ready mix plants operate an all new fleet of transit mixers with a capacity of 12.7 cubic meter equipped with hydraulic shoot. All concrete, when mixed, will be delivered to the job site with a computer issued delivery receipt.
Yamen's transit mixers are linked to GPS tracker such that they are under observation in order to be controlled and monitored to ensure accuracy in time.

Pumping
Yamen's ready mix plants possess mobile pumps with different pumping capacities.
Environment
At Yamen, health and environment are of prior concerns. Periodical audit and control are practiced to ensure strict compliance with all statutory requirements, health safety, and environmental norms.
Certifications
Yamen holds an International Quality Certificate relevant to ISO 9001:2015 in addition to ISO 45001:2018 and ISO 14001:2015.